What is Lighthouse?
Google Lighthouse is an open source automated tool for measuring the quality of web pages. It can be run on any web page, public or requiring authentication. Google Lighthouse audits the performance, accessibility and search engine optimization of web pages. Google Lighthouse is developed by Google and is intended to help web designers.
Google Search uses Lighthouse?
Short answer is no directly, their search algorithm uses its own tools but Lighthouse indirectly and accurately measures a website's performance in the search engine, in addition to expertise, authoritativeness and trustworthiness.
If you think that your website with a low Lighthouse score, and little traffic will perform well in the search index you are wrong. It is an indirect measure but it will translate into a good user experience and compliance with other google requirements.
Website Speed Optimization
Why a Landing page speed test?
It's the first step for your visitor, a whole page totally rendered and available to navigate through. Then, the design and message takes the lead.
Likewise, Search Index Engine algorithms position better a website with higher performance, if other conditions are met before. So overall performance, measured in Google Lighthouse is the perfect tool to verify how well built is a website.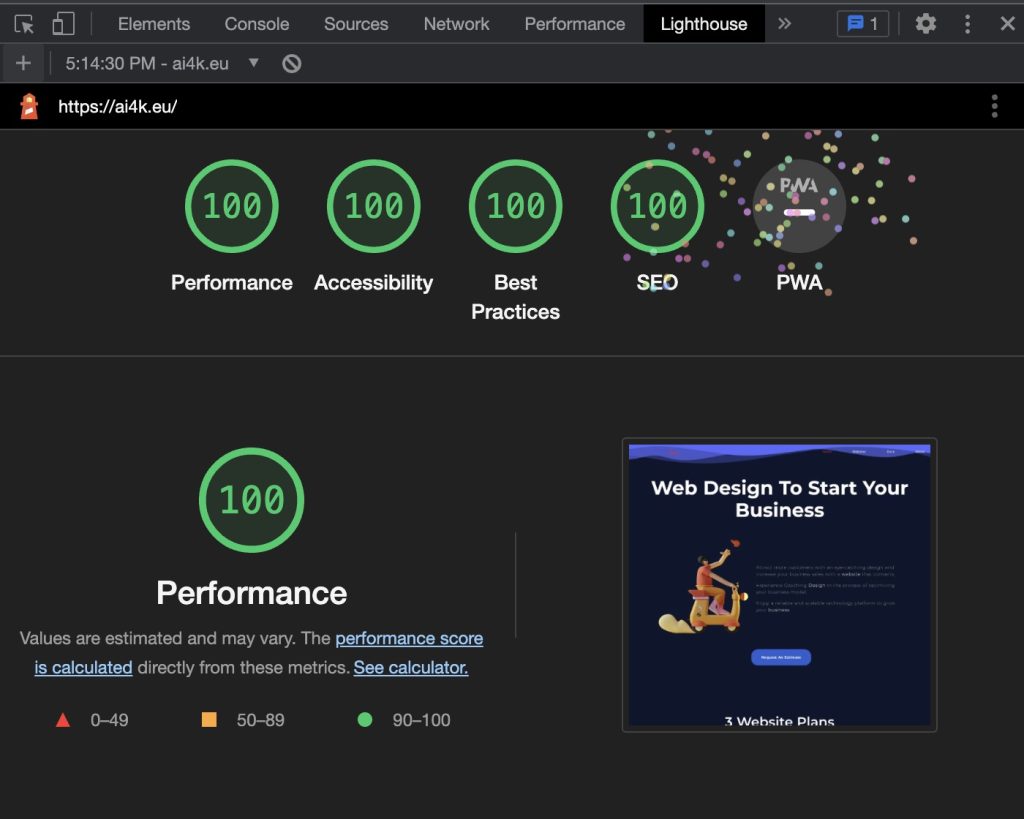 Any website can have a perfect score in the website speed test?
No, there are several configurations and conditions, direct and indirect, that makes a website achieve that perfect score. ai4k Websites guarantee in any website plan scores of 90+ in Desktop and 80+ in Mobile. And with our product Website Speed Test 100 we can guarantee a perfect 100 score per landing page, and improving simultaneously the overall website's performance.